HELIOS NURSERY
– Ellepots enable Helios Nursery to grow more elite rootstocks and grafted fruit trees faster



"It takes the same amount of time to produce a finished grafted tree, but it takes much less time to produce the elite rootstock in Ellepots. We can react to the needs of the market much more quickly".
Todd Erickson, manager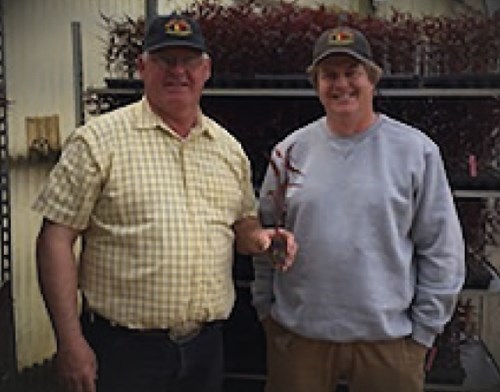 Helios Nursery was founded as a propagator of apple, pear and cherry bare root rootstocks and grafted trees in McMinnville, Ore. The company's marketing niche is to only grow elite root stock and elite fruit tree varieties. Most of the hundreds of thousands of rootstocks and grafted trees the company produces annually are shipped nationally to fruit orchardists. Its two-year-old grafted trees are field grown and sold bare root.​
Challenge
Helios Nursery manager Todd Erickson said the company was looking to differentiate itself from its competitors by accelerating the availability of elite rootstocks and elite varieties of grafted trees.
Solution
Erickson said Helios Nursery needed to increase its production of elite bare root
rootstocks and two-year-old elite variety grafted trees to meet the increasing demand from its orchardist customers
"We have chosen to produce all of our elite rootstocks in Ellepots," Erickson said.
"In the Ellepots and Ellepot trays we can propagate the rootstocks in the greenhouse in a much shorter period of time. And the rootstock plants that we produce have many more roots. Producing a rootstock bare root in the field takes at least a year. In Ellepots and Ellepot trays we can accelerate the process significantly."
Benefits
Erickson said using Ellepots has enabled his company to propagate and ship rootstocks from April through November.

"For a grower who is doing the propagation outside, it would take a year to produce one crop," he said.
"Doing the propagation in Ellepots in a greenhouse, we are able to produce multiple crops per year,"
he said.